Gather, Solve & Connect: The Ultimate Guide to Global Escape Room Conventions, Fairs and Events
Article by Mairi Nolan posted on Thu 28 September 2023
Escape rooms. Ask a group of enthusiasts what they're all about, and you'll hear some unique answers. But to us, escape rooms are a social activity that, at their heart, are really all about bringing people together. Although the escape room industry may be comparatively 'new' (after all, the first ever escape room was opened in 2007), we've grown a lot in a small amount of time. We've also grown more connected, after all - we're a social bunch!
…And we have to be, if we're going to collaborate to solve all the puzzles and beat the clock.
Since 2007, we've seen a huge number of escape room conferences, conventions, fairs and expos pop up all over the world. These events offer a unique platform for enthusiasts and industry professionals to come together, exchange ideas, showcase their latest innovations, and of course, celebrate their shared passion for escape rooms.
Though the specific list of exactly which conferences are running changes a little each year, since lockdown we've never seen so many fantastic events around the world. In this article we'll run through just a few of the world's most popular escape room events. From escape room conferences, to immersive expos, to puzzle-design seminars, and plenty of award ceremonies you can visit in person.
So, diaries at the ready. Let's get into it.


USA & Canada
Reality Escape Convention (RECON)
What: In-Person/Online Escape Room Convention
When: Annually in August
Where: USA (Location Changes Yearly)
Reality Escape Convention, or RECON for short, is quite possibly the world's most popular English-language convention dedicated to just escape rooms. For players and for business owners, there's a mix of events, talks, workshops, entertainment, and good old fashioned networking mixers.
"For Everyone, The RECON community is a brilliant, social, and caring group of people who share a passion for making and playing games. Bringing everyone together creates opportunities for serendipity, both personal and professional."
RECON is run by the team behind Room Escape Artist. Since lockdown, the event has alternated between taking place online (RECON Remote), and in-person at various cities around the United States.

RECON 23 Teaser Video


Transworld Room Escape Show
What: In-Person Escape Room Fair
When: Annually in March
Where: USA (Location Changes Yearly)
Transworld Interactive Entertainment Show (formerly known as the Room Escape Show) is the USA's largest 'immersive entertainment' conference. Whilst it now includes many types of entertainment from VR, to axe throwing to laser tag, escape rooms are still at the core of the event.
TransWorld's Interactive Entertainment Show features vendors, on-site demos, networking opportunities and dozens of targeted educational seminars presented by industry leaders (from both the United States and Canada) in trending interactive concepts

Transworld Poster


Morty App Meetups
What: In-Person Escape Room Meetups
When: All Year Round
Where: USA, Canada
Whilst not quite a convention, another thoroughly fantastic way to meet other escape room enthusiasts is by attending one of the Morty App Meetups held year round across Canada and the USA. The structure of these events changes city to city, but essentially a group of 5 - 20 escape room enthusiasts meet up, play some escape rooms, and network.


NYC Morty App Meetup Poster
Europe
Le Salon de L'Escape Game
What: In-Person Escape Room Convention
When: Annually in September
Where: France (Location Changes Yearly)
Le Salon de L'Escape Game is France's biggest annual escape room event. Its focus is more on the side of owners, with a series of talks throughout the day dedicated to running and operating escape room businesses, as well as the latest in French escape room trends. At the end of the convention, the annual Escape Game Awards ceremony takes place and is live streamed around the world. Le Salon is run and organised by escapegame.fr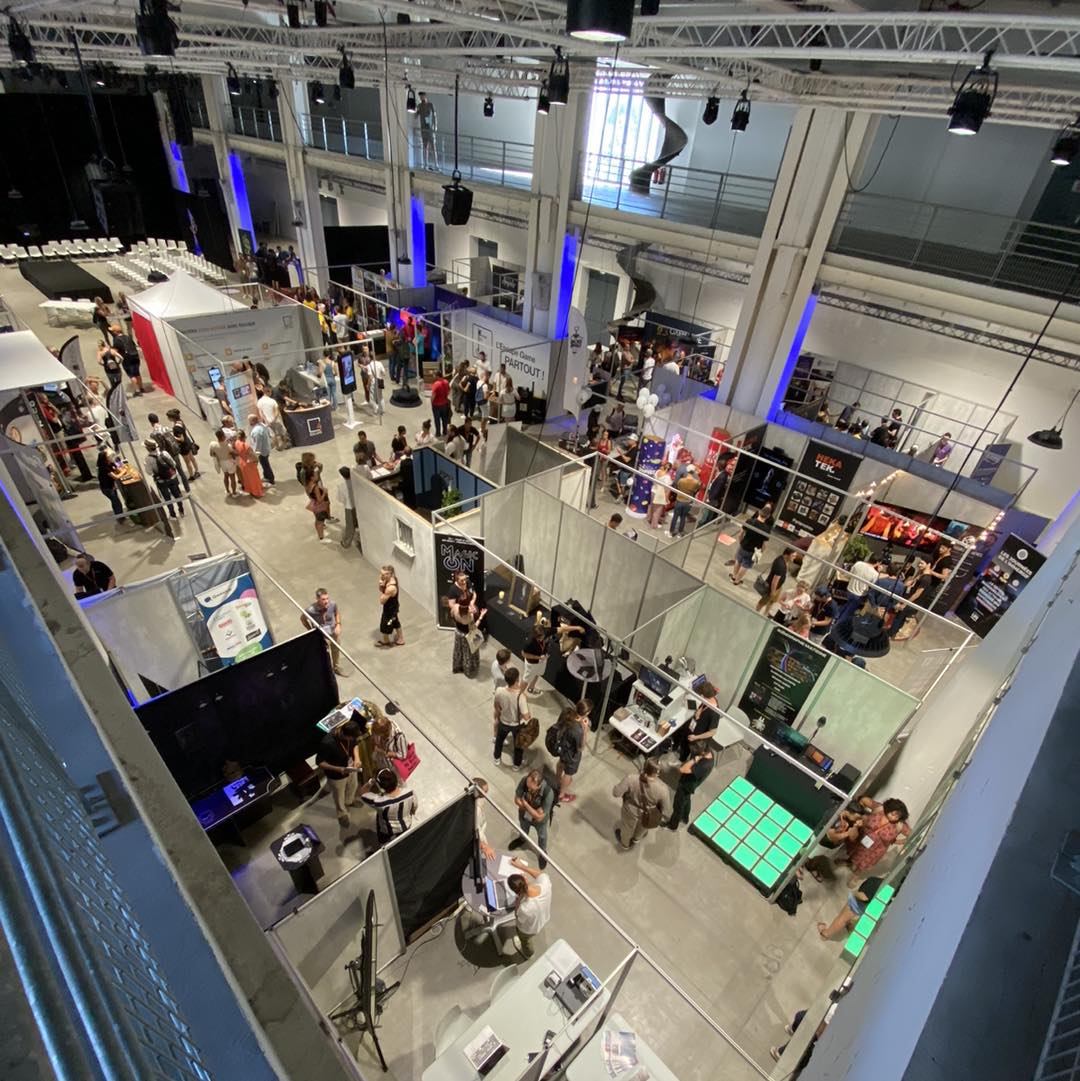 Photo of Le Salon by escapegame.fr


Fiera Nazionale Escape Room
What: In-Person Escape Room Convention
When: Annually
Where: Verona, Italy
Fiera Nazionale Escape Room (National Fair Escape Room in English) is Italy's biggest escape room convention. Aimed again, more at owners and creators, it features a number of exhibitors and talks throughout the day. The FNER has been running since 2019, and also includes a live 'Champion Tournament' for folks wanting to try out their escape room skills.
"FNER, aims to bring together creators, managers of Escape rooms and RLX together with set designers, marketing companies and creators of Props... and also curious people taking their first steps into the world of Escape Rooms."
Photo (c) FNER
Remote & Online
RECON
What: Online Escape Room Conference
When: Every Other Year
Where: Discord
Okay, yes we're mentioning RECON twice - but it's important to add that every other year, RECON takes place online. Opening up its doors metaphorically to the wider world, RECON Remote is hosted on Discord and available to all ticket holders. The talks and events do occur during US-time, but enthusiasts and owners can take part in community events at any hour during the RECON weekend.
Honorary Mentions
The following aren't exactly escape room events, but we think they're "close enough" and fit nicely into the category. Often they'll feature an escape room presence with local businesses, or they feature games and companies which make escape room-adjacent experiences, such as video games, or tabletop games.
The Cerebral Puzzle Showcase
What: Online Digital Game Showcase
When: Annually, around August
Where: Online, Steam
The Cerebral Puzzle Showcase is an online event that takes place annually on the PC video game platform Steam. It's an event dedicated to showcasing some of the world's best puzzle games - including many escape room titles.
Cerebral Puzzle Showcase Poster


Pax
What: In-Person Games Conference
When: Annually, Multiple Dates
Where: Multiple Locations
From the very specific "puzzle games" of the Cerebral Showcase, to the enormous umbrella of "all games", PAX is one of many gaming conventions around the world but one, in my opinion, features more than it's share of escape room, puzzle, and immersive content. Especially Pax Unplugged.
"PAX is a celebration of gaming and gaming culture that takes place annually in Boston, Seattle, Melbourne, and Philadelphia. Featuring thought-provoking panels, a massive expo hall filled with the best publishers and studios, new game demos, musical performances, tournaments, and a community experience unlike any other."
The lineup of attendees and participants will vary year on year, but a glance through previous years confirms you'll see a wealth of escape room games on showcase, as well as talks from one of the world's foremost puzzle designers. For anyone interested in games in general, the nearest PAX to you is a must-visit stage for networking, learning, and connecting.


The Next Stage Immersive Summit
What: In-Person Immersive Experience Conference
When: Annually, around June
Where: USA
Created by No Proscenium Everything Immersive, and sponsored by some large escape room players such as Morty App, The Next Stage is a celebration of all things immersive. And yes, that includes escape rooms too. It's primary focus in in more theatrical experiences, but the conference features three days of insightful workshops, talks, and activities for creators, designers, and enthusiasts of all types of entertainment.
Next Stage Poster 2023
And if you like immersive experiences, you may also like…


The Immersive Industry Homecoming Summit
What: In-Person Immersive Experience Conference
When: Annually, around June
Where: USA
Featuring
"The creators of Sleep No More and The Burnt City. The founder of Cirque du Soleil and Hanai World. The director of some of Secret Cinema's biggest smash hits. WOW Festival. Niantic. Room Escape Artist. Reality Escape Pod. MEMFOLK. Pseudonym Productions."
This is another conference that blurs the lines between 'escape room' and 'immersive', erring on the side of the latter but featuring a significant presence of some of the smartest minds from the escape room world as well. Their aim is to unite the creators of theme parks, immersive events, escape rooms and more.


Photo (c) Immersive Industry Homecoming Summit


Award Events
We could write a whole separate article on all the various escape room award events throughout the year. Some of these take place in person, others online.


Photo (c) Escape Room Awards in Spain
Europe
Asia
Online
TERPECA, takes place in an online livestream in annually in December

Golden Lock Awards, takes place in an online livestream annually in April

Bullseye Awards, takes place in an online livestream annually in December


Retired Events
Gone, but never forgotten! These escape room events took place in the past but haven't yet made a return.


Up the Game
Up the Game was an escape room convention held in The Netherlands, then later online digitally. It brought together creators and designers from across Europe for a day of talks, workshops and roundtable discussions. Whilst no plans have been announced to bring the convention back, you can still view the website and watch the old talks here.
In 2016, the very first edition of Up The Game was held in Amsterdam, the Netherlands. The following year in 2017 we announced the second edition 'Connecting Creators', and in 2018 'The Future of Experience', which were both hosted in the colossal dome prison in Breda. After 2019's edition in Amsterdam we were hoping to widen the scope and broaden the horizon for Up The Game the Bigger Picture, unfortunately we had to postpone this to 2021 instead we hosted Up The Game Online Festival in which we were able to bring the community closer.
Photo (c) Up the Game
ERIC (Escape Room Industry Conference)
Held annually in the United Kingdom, ERIC was an in-person escape room conference that took place over a number of days and featured a packed lineup of workshops, discussions and talks. It ran from 2017 - 2019, but no plans to bring it back post-lockdown have been announced.


ERIC Logo


Escape Games Convention
The Escape Games Convention was an escape room convention held annually in Germany. Though it ran for many years, it's final year was in 2017 and the website has since been taken down. But, detectives among you (solving puzzles after all is what we're best at) may be able to find a few talks from various events online, such as this one.
Escape Games Convention Logo


Red Bull Escape Room Championships
Again, not quite an escape room convention - but definitely something that united our entire industry together was the Red Bull Escape Room Championships. The Red Bull Escape Room Championships was an in-person escape room event where teams representing countries around the world went head to head in a specially designed room. You can read more about the event on their website here. Whilst the Red Bull Escape Room Championships no longer exists, the closest thing to this event you'll find today is the ER Champ event, held annually online and in Poland.


Photo (c) Red Bull Championship


Escape Room Conferences - Closing Thoughts
Have we missed a conference near you? Let us know!
This article is written and brought to you by Buzzshot. Buzzshot is an escape room software combining player marketing, business growth and prioritising the customer experience. Trusted by 1000s of escape rooms worldwide, Buzzshot helps your escape room business deliver a fantastic customer experience from the first to the last touch point.
If you're interested in escape room news and live events around the world, you may be interested in signing up to our monthly newsletter: Escape Industry News.
Once a month Escape Industry News sends round a newsletter containing all of that month's key escape room stories. From news, to new escape room openings, to podcast episodes, to new industry innovations, and dates for your diary. It's completely free to sign up to, and we'll never spam you.
Be the first to hear about our next blog post