5 Photoshop Tips for Amazing Escape Room Photos
Posted in Marketing by Katie on Mon 9 March 2020
Does your escape room produce good quality player photos?
For some businesses, the photo is almost an afterthought - a quick snap and maybe a post to Facebook - but photos can be so much more.
One thing we've observed is that players
really
like having photos taken! So much so, that escape rooms that are too slow to post pictures can be in receipt of complaints.
Secondly, those photos can be an excellent marketing tool for your escape room. When people like the photo you posted of them, they share it across their own social networks and the picture could lead to things like facebook likes, players tagging themselves in the photo, and ultimately organic word of mouth marketing and referral business.
The short of it is, it's worth paying attention to your customer photos and making sure you do a good job for them. One way to ensure that you can quickly produce consistently good pictures is to use a Photoshop template. Why do this? Because you don't have time to individually edit each photo before it goes out. A template can be used with some preset edits to make the picture look good, and add details such as your logo, quicky.
Users of Buzzshot can send us their team photo overlay template and we can integrate it into their Buzzshot account, so that the process is fully automated for them. Of course, you need to discover the template you'd like first, so here are a few tips for doing so:
Get our tips for creating interesting escape room photos here
#1. Know what works for the platform you're sharing on
Photoshop templates and presets are massive timesavers. Have you ever wondered how a wedding photographer or other designers with a fast turnaround work so quickly and produce high-quality work? Most of them create their own image templates or presets to speed up the process.
You could commission a designer to create a template for you or you might even be able to purchase one via an online stock library. If you want to create your own template in Photoshop you will need to set the specifications yourself. The common place to start is by opening up Photoshop and creating a new document (Command + N or File > New), and setting the size and resolution.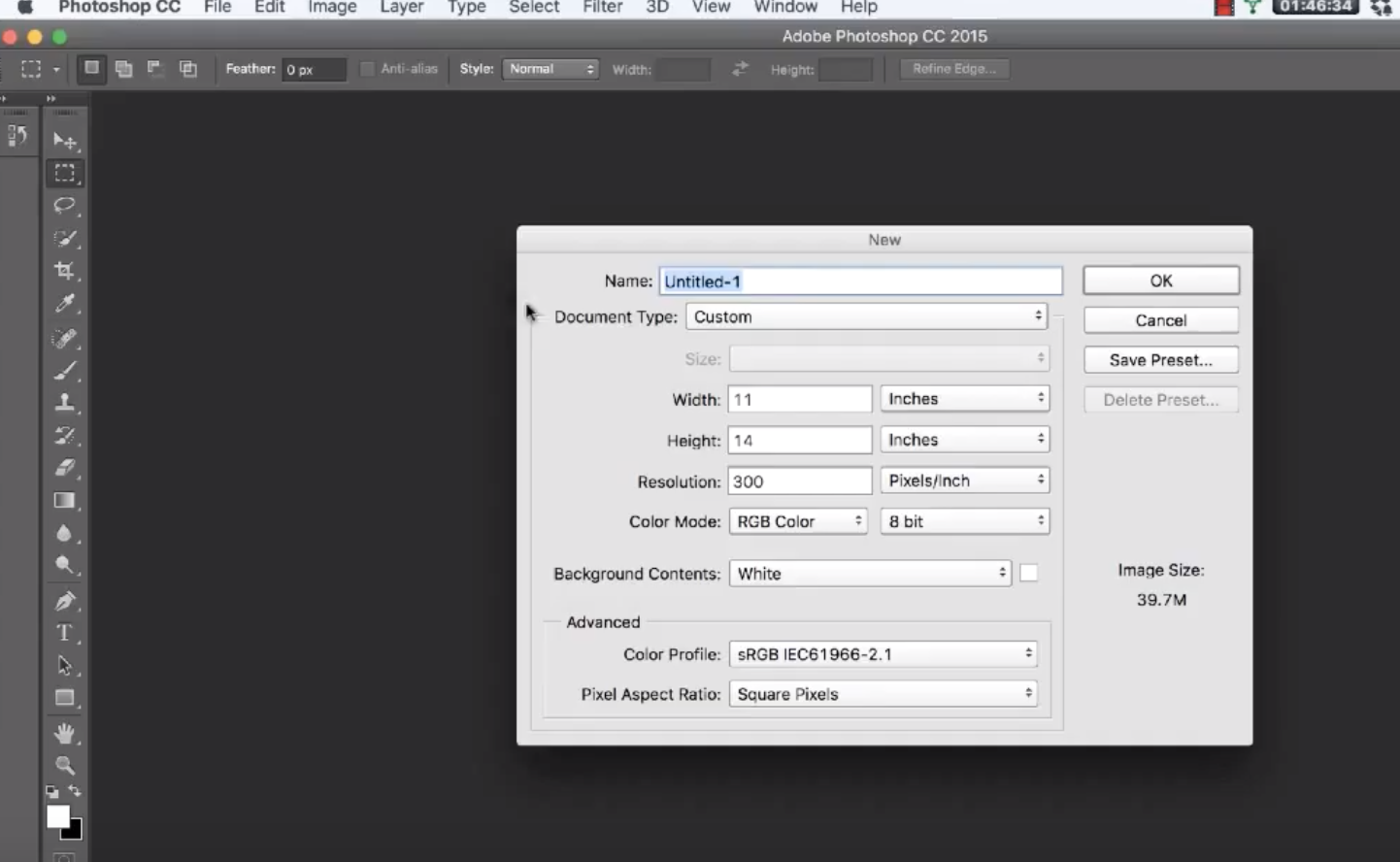 Note: When you create templates for sharing on facebook or your website you want to work in pixels not inches. If you select the inches dropdown above you will see an option to set the height and width in pixels. That is important to do.
If your images are going to be viewed on a computer screen, tv or phone screen you should always think in pixels (px). Different social media channels have different guidelines for the images they display, and at which pixel (px) sizes. Uploading images outside of those guidelines can result in less-than-optimal appearance. All channels compress images in some way, so it's important to understand what will look the best.
Let's say you're creating a template for Facebook photos - timeline photos are shown in three different formats; portrait, landscape or square. Most escape room group photos tend to use a landscape orientation in order to fit everyone into the picture, but of course, this is up to you.
You're aiming for the picture to retain as much quality as possible once it is posted. Facebook recommends that your photo be uploaded in one of their supported sizes;
720px, 960px or 2048px wide
. If you were to upload anything greater than 2048px, Facebook will resize it and you may not like the result.
This 1600x1200 template is provided by Buzzshot
.
One thing to consider is
image portability
- do you share across different social networks? If so, you don't want to fuss around resizing multiple versions and so you should choose an image size that works well across those different sites.
Handy hint:
There are various types of image editing software available and some are free to use but Adobe Photoshop is the most widely used. The full Adobe Suite subscription can be very expensive but if you have no need for the full range of Adobe apps, they do have a
photography subscription
, that gives you access to Photoshop and Lightroom for USD $9.99 per month (Annual plan, paid monthly)
.
#2. Discover your own presets and filters
If you'd like something that is really customised to your business, then play around with Photoshop and discover what you can do to
create your own templates
. We suggest that you should have two main goals:
To make the people in the picture look good (so they'll want to receive/share it!), and;
To create pictures that will help to promote your escape room.
Another common issue when photographing people is that the images can lack vital contrast that helps people to appear their best. They might appear dull or faded into the background. Your aim is for people to appear clearly in the image.
There are a couple of different Photoshop tools that portrait photographers often use for this. One is the
Overlay Blend Mode
. By adjusting the opacity, it strengthens the saturation of colours and darkens the shadows. This isn't suited to all people though. A versatile approach can be to use a Soft Light effect to add contrast. This
YouTube tutorial
shows you how to do this - you can save these actions as part of your template.
You might also look at effects that make pictures more interesting. For example, here is a recent post from us on
using the vignette effect in Photoshop
.
Another (more simple) thing you can do to improve the clarity of the image is to use Photoshop's "sharpen" feature as part of your template. Bump up the sharpness to around 20 or so, which will be enough to sharpen most images without overdoing it.
How will you know what you need? We suggest that you take a practice group photo in the location and under the lighting conditions that you usually would take player photos. You can use this to test edits and find out what should work in most situations. A good rule of thumb is not to go too extreme with filters or adjustments - this should ensure that most of your photos look good.
#3. Add your branding to the template
It's important that your branding is automatically attached to your social media images, so you'll need to add this as part of your template. Your logo is probably a given, and perhaps your Team Name and Website Address, but there are also other creative elements you might add. For example, some escape rooms choose to use custom framing, like the example below.
Keep in mind that you should aim for images to be "on-brand" (using your brand colours and fonts) and that any extra creative elements should take into account that you may be taking pictures of big groups. If the framing swallowed a lot of the picture, for example, people may be left out.
Note: Buzzshot allows you to preview your image whilst you are actually taking the photo, so you'll never cut off players heads accidentally. Buzzshot can also add dynamic information like Team Name and Escape Time, all automatically.
#4. Good pictures require less Photoshop!
Photoshop is an amazing and extraordinarily vast tool for editing your photos. As an escape room business that needs to be able to make quick tweaks and post photos in a timely manner though, you simply don't have time to make individual edits.
A good template will help to take most of your photos to a better standard, however, as you know, some photos require a lot more work than others to take them to a better quality. As you can't do this for each individual photo, a good way to produce consistently good photos is to take them under optimal conditions.
Primarily, this means having a good lighting set up. The word photography literally means "writing with light" - it's all about how you arrange your subjects with regard to the light to get a better image. To achieve this, you may want to set up some studio lighting. The sky's the limit in terms of pricing, but you can get lighting kits for less than USD$100 on Amazon that will do a respectable job. You may even use lamps and other available light sources to achieve good light in your photography space. At the very least, using a flash helps to ensure faces are properly lit indoors (if you can, use a decent camera with a detachable flash for better quality).
You will also want to be mindful of how people are positioned in relation to the light source. If someone's head is partially behind someone else's, it will cast a shadow that can blur them in the picture. When taking the photo, you should be able to see each person's face clearly in the light (like the above "Team Awesome" example). Photographers quickly learn that a big part of the job is rallying people into the right positions.
Another basic is the background. In most instances it should be a relatively distraction-free "blank canvas" so that the focus is on the people being photographed. Your branding and any effects you want to add should be enough embellishments.
Note: Buzzshot is designed to run on Android and iOS devices including tablets, iPads and smartphones. For most escape rooms a tablet or smartphone camera is perfect for taking their team photos but for any businesses that wish to work with DSLR cameras, professional lighting setups and special-effects techniques like green-screen, Buzzshot has a solution in the works. Our new Buzzbox technology is currently in beta use at a few places, including Sherlock The Game Is Now, in London. Please get in touch with Buzzshot if you are interested in learning more about the Buzzbox.

Get our tips for interesting, shareable escape room photos here
#5. Create photos that your players want to share!
The better your photos, the more likely people are to want to share them. But remember, some teams win and some teams lose. Not everyone wants to share that they've lost. You might wish to consider adding game information (like a score or points) or achievement badges. Adding their Team Name and a statements like "Team Name escaped, well done!" (and you could even have a positive but different caption for teams that have lost). Small details can make a real and personal difference. Basically, the more context a photo has the less it needs to be explained when shared – if the image tells the story, it doesn't need a written explanation and that means it's quicker and easier for players to share.
Note: Adding such personalisation can be time consuming if you're manually doing it in Photoshop. Buzzshot can do all these things automatically, it can even show/hide different Photoshop layers and image elements based on game information such as whether a team won or lost).

Final thoughts
Your escape room photos can be a great asset to your business. They cater to players' desires to catalogue their experiences on social media and they can be a great branding exercise. The pictures you put out say something about your business. The more professional the appearance, the better the impression they give. Use Photoshop to create presets and templates that can quickly be used on group photos. You save a lot of time and can turn out consistently good photos..
Check out how Buzzshot helps escape rooms to automatically post great photos
here
.


Create Interesting Escape Room Photos