Room for More Fun in Your Escape Room? Why You Should Sell Board Games & At Home Experiences
One of the biggest challenges to escape room owners is how to increase the per-head spend of each player that comes through your door. At the end of the day, once a player has played all your rooms, no matter how much they love your company, they've reached their maximum lifetime spend with you. So the million dollar question is: How can I increase that lifetime spend?
Well, you could create more escape rooms. Sure. But what if we told you there's an easier way to enhance your players' experience and offer them brand new games without a large up-front investment? There's a way! There's always room for more fun in your escape room!
In this article we'll explore how you can tap into the growing demand for play-at-home escape room experiences and leverage it to increase the happiness (and the per-head spend) of your players. We'll dive into some strategies you can employ to upsell at-home experiences within your existing escape room operation. Whether it's curating a selection of tabletop experiences, running digital versions of your rooms rooms, or opening an online shop so that players can bundle their tickets and gift card sales with physical games.
So, what are at-home escape room experiences?
Imagine playing an escape room… But at home! Thanks to the recent lockdown, that idea isn't so far-fetched anymore, since many escape room business around the world pivoted from in-person puzzle games, to ones their players can play at home. Today, there are many different types of "play at home escape rooms" you can start leveraging for an additional revenue stream for your business. They include:
Board Games: Puzzles, in your hands. Board games come in many different types - from collaborative to competitive, from puzzle driven to more casual. A well chosen escape room in-a-box brings the ultimate blend of brain-teasing challenges, strategic thinking, and good old-fashioned fun. A perfect treat that a player can take home with them after an escape room.
Wooden Puzzle Boxes: Physical, tactile and durable experiences that challenge a player's spatial and logical mind. Many escape rooms choose to have these on the tables in their lobby for players to play with, but you can also make them available to take home as gifts.
Photo by Kieran Wood
Print and Play Games: Perhaps you prefer to save space in the lobby and print your games on-demand? With a printable puzzle experience, you can print-on site, or let your players purchase at home. Printable escape games are a clever creation that typically involves cutting, folding, and sticking in a way usually discouraged in a physical escape room. They're a player's ticket to portable, low-cost entertainment.
Digital Point and Click With Telescape: Your rooms, in the digital world. Reach new audiences around the world with a digital, play on demand point-and-click version of your popular physical rooms. All you need is a 360 degree camera.
Remote Avatar Experiences: If you find yourself with un-booked slots throughout the week, Remote Avatar Escape Rooms are a way to continue hosting teams after hours with a live, remote-avatar edition of your escape room.
Escape SC's Remote Escape Game
…And many more!


Your Players, in the Right Place at the Right Time
If you've ever played an escape room yourself, you'll know there's often some 'waiting around' time in the lobby. A player's mind starts wandering as they wait. Maybe it's to the wooden puzzle on the table in front of them, or maybe it's to the shelf of board games in the corner.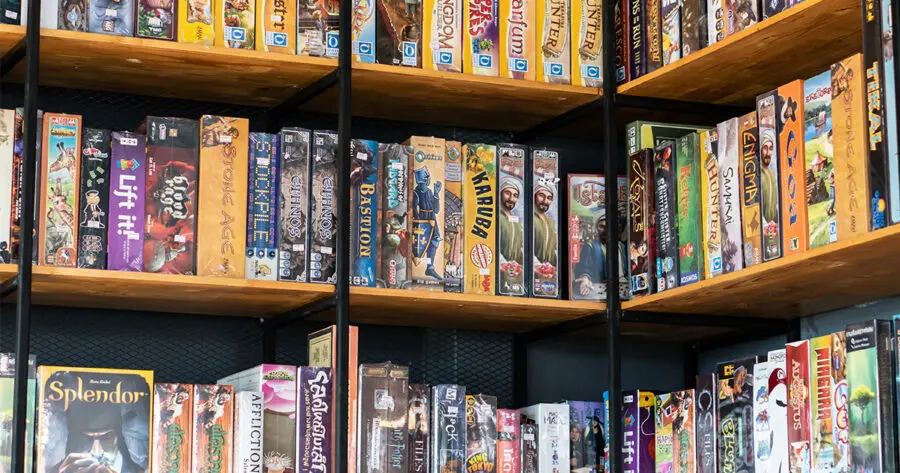 Utilizing your own lobby space can really help encourage impulse purchases, add-ons, merchandise, and shopping for gifts. Large shopping centers the world over spend a lot of time, money and resources in perfecting product placement around the shop to encourage these kinds of purchases. There's no reason you can't do that too. For example:
Try placing compact and eye-catching games near the counter where players sign their waiver and pay for their booking. These small grab-and-go options will encourage impulse purchases as they leave.

Create thematic displays which align with the genres of your escape room themes. For example, if you have a fantasy themed escape room, try showcasing fantasy board games on a dedicated shelf.

Set up popular games on the tables in your lobby where players can try out select physical games and experiences. By providing a hands-on experience, you get to showcase what makes these games special and give them a taste of the fun they'll have at home.

Advertise themed bundles around the lobby. Perhaps you can offer encouragement to book a second escape room right there and then with a discounted bundle that includes a selection of physical games as well. For added effect, make the bundles a limited offer!

Collaborate with local creators. If there are other designers, publishers, and game creators in the same city as you, this can be an excellent way to encourage players to purchase those games via your escape room. After all, players are already supporting a local business by playing with you - a board game by another local creator is an excellent upsell.
Let the Magic Continue at Home
Happy players will want to make that good feeling last longer. So, another excellent way to upsell an at-home escape room is by capturing the excitement and exhilaration teams feel when they successfully 'escape'.
You can encourage teams to check out other suitable games on their way out by placing themed games near the point of sale, and the exit. You can encourage that team to pick up a game on their way out to continue the magic wherever they're going next. Perhaps they're off to a bar to toast their success? A wooden puzzle box is a fantastic tactile way to continue puzzling without complex rulebooks. Or maybe they're a family looking for something similarly puzzle-y for their next board game night? Make sure they can see your selection of games on their way out!
At the other end of the scale, with some creative marketing know-how, many escape room businesses opt to create their own 'at home' experiences in the form of prequels and sequels to your physical escape rooms. From digital experiences, to escape rooms 'in-a-box', if you plan for an escape room to have a cliffhanger ending, your players will be itching for more.
Whatever a team's reason for wanting to continue the magic at home, offering at-home experiences on the way out is a business's best way of promoting further shared experiences.
Hourglass Escape's "Rise of the Mad Pharaoh" digital Telescape edition


From Bricks to Clicks, Shop Online
Last but not least, making a commitment to sell games beyond your physical escape rooms opens up a world of possibilities. None more so than on an online shop. Your players are already going to your website to purchase tickets, so why not offer the option to add an add-on, a bundle, or a limited time deal via your website too?
It's the digital equivalent of saying "would you like fries with that?"
For a successful online checkout, your at-home games must be readily available to purchase, clear and informative, and the goal should be to keep the number of clicks down to a minimum. This can be achieved with helpful suggestions and product placement. If someone wants to play "Curse of the Pirate Treasure", make sure they can easily distinguish between your physical room, or a digital copy of the game, or even a similarly named board game.
So, how do you choose which at-home puzzle games to sell?
Every business is unique, and that's what we love most about the escape room industry. The only person who can tell you what your customers will love, is you yourself! But here are some tried and tested methods for choosing what type of at-home escape rooms you should sell


1. Your own experiences!
If you've created your own digital or physical experiences, these should be your top priority on what to sell. Not only will players recognise your logo and branding, but they'll associate a positive experience playing an at-home game with your physical site. It's a positive feedback loop!


2. Alternatively, you may wish to create something new
Telescape is a digital platform which offers a way for owners to digitize their physical escape rooms to be played by teams from anywhere, all around the world. This opens up an enormous new market. Beverley Breakout, who have won awards for their at-home escape rooms explains:
"It meant we were able to connect with more people from around the world who normally wouldn't be given the opportunity to play our games. Telescape was the first type of online game I played and enjoyed. It meant you could experience proper puzzles and rooms in established venues - the next best thing to being in a room."
- Francine, Owner at Beverley Breakout
Telescape can also be used to power "Remote Avatar Escape Rooms". If you regularly have un-booked slots in your room, your Games Masters can use those slots to host experiences for players. Whether out of town players who have done one of your rooms whilst visiting, or a team on the other side of the world who want to, but can't visit, it opens up a brand new market of enthusiasts.


3. The tried and tested method
Last but not least, beloved games such as Unlock! and Exit: The Game are a popular series of games you may see at many escape rooms around the world. These board games are compact and available in many different languages and themes. Similarly, wooden physical box puzzles such as the ones offered by Escape Welt are durable and affordable, as well as looking physically impressive.
Depending on where your escape room is located in the world, there'll be locally and regionally specific puzzle game experiences to suit your audiences and you'll be surprised at how much board game studios love to collaborate and reach new audiences.
Exit The Game, The Sunken Treasure
Buzzshot, Supporting Escape Rooms
Here at Buzzshot, we live and breathe escape rooms and we're here to support your business at every step of the way. Our software offers a sophisticated player management system, fully integrated escape room reviews, a powerful waiver system, and customisable photographs that take the hard work out of delivering photos to your players. Sign up today for free to find out what Buzzshot can do for your escape room business!
Be the first to hear about our next blog post