Buzzshot 2.3 released with booking software integration and more!
I'm pleased to announce that Buzzshot version 2.3 is now available in the App Store and the Play Store.
Buzzshot is software for Escape Rooms that handles waivers, team photos, Facebook upload and automatically contacts your players after their games to help you get those great reviews!
Buzzshot 2.3 includes a host of new features including:
Integration with Bookeo and Xola


Buzzshot now integrates directly with two of the most popular booking platforms. It allows your players to pre-sign your waiver (or just pre-register their details if you're not using a waiver) before they even arrive at your location. Of course not every player will do this so the Buzzshot app works just the same as before for anyone who needs to sign when they arrive.
Optional signatures on the waiver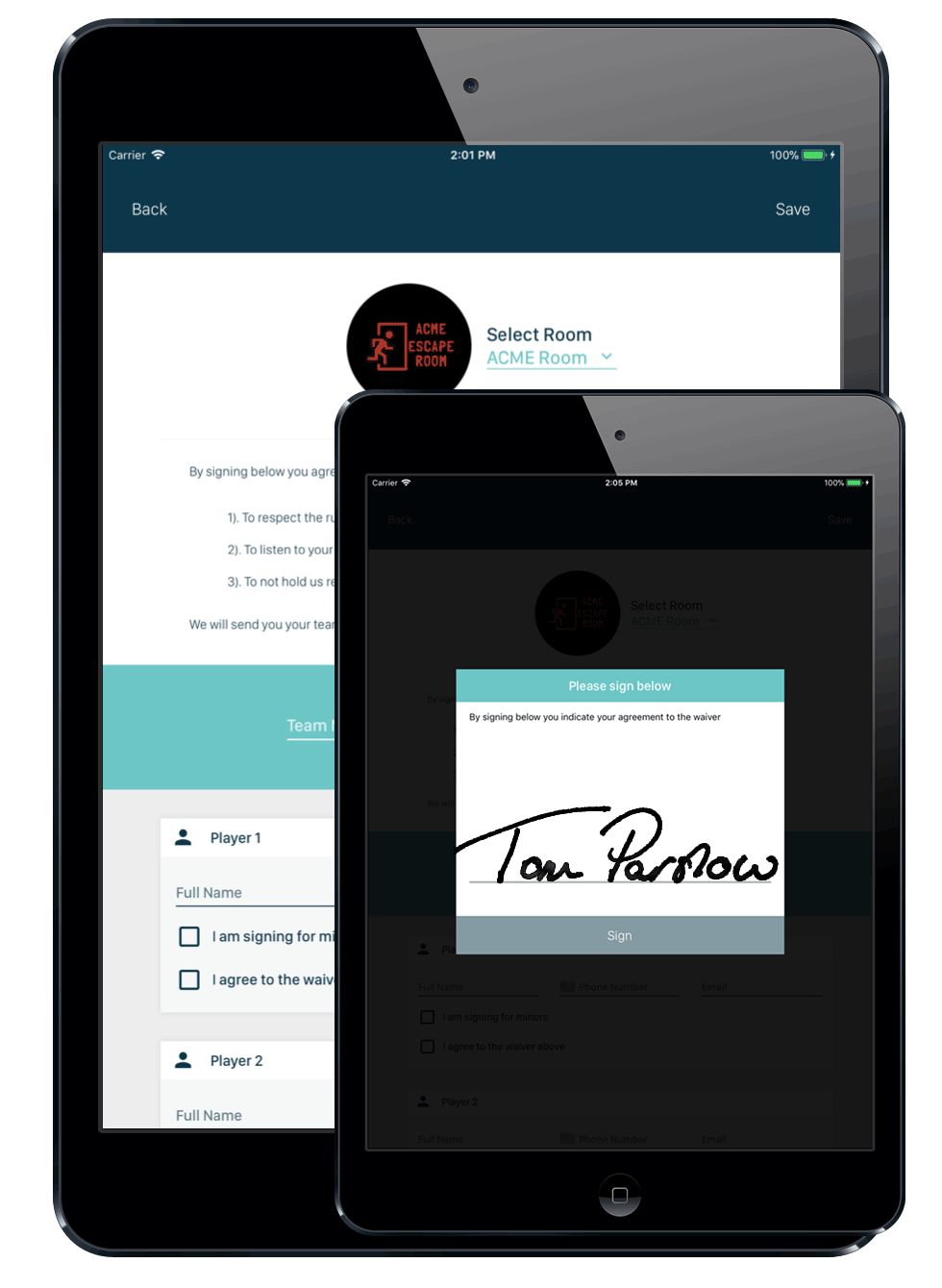 Want to take an actual signature for each player? You now can, the players sign the screen with their finger (or use their mouse if signing from home). Signatures are stored in the admin backend so you can retrieve them later if you need them.
Multiple photos per team
You can now attach multiple photos to a team so if you have group shots and action shots they can now easily be included. Everything still gets uploaded to Facebook your players still get one message including all the photos.
Kiosk mode
You can now lock down Buzzshot so that players can't exit the "New Team" screen. This is great if you want to leave your Tablet running Buzzshot unattended. It can be combined for a kiosk stand that locks the tablet in for a completely secure unattended registration process.
Stats Page
A new page on the admin backend system that lets you explore your data and see charts and graphs of your player data. See exactly what your wins rates are for each room or how your number of players changes by day of week or time in the month.
Get in touch
Buzzshot helps Escape Rooms engage more with their players, encouraging happy players to give great reviews that drive still more players through the door. It also reduces the work needed to produce great team photos and create a great buzz for all players.
Of course there's always more to come. There are even more great new features in the pipeline all based on your feedback. I always want to hear your feedback so please do get in touch at tom@buzzshot.co.
If you're not using Buzzshot already then I'd like nothing better than to give you a free demonstration and free two week trial.
Click here to request your FREE demo.
Be the first to hear about our next blog post